How Hospitals Can Bridge the Socio-Economic Gap in Low-Income Communities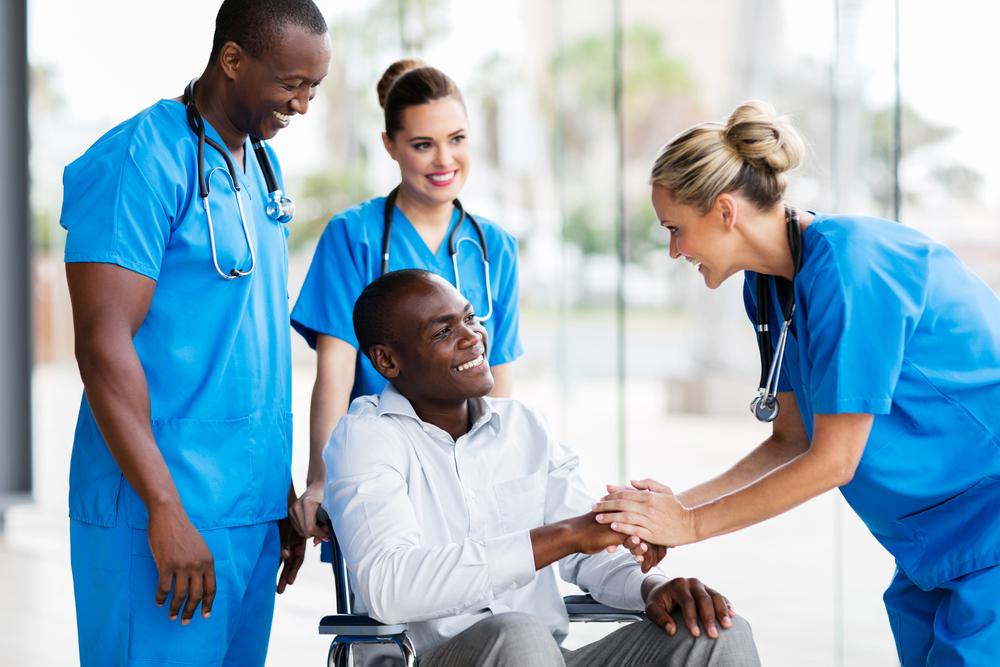 There is a great disparity in the health programs that are available to certain groups of people. As the overall presence of healthcare providers in low-income neighborhoods has decreased steadily over the last few decades, people that reside there are more likely to be in poor health.
Those people that reside in higher-income areas have a higher probability of being in good health, in part because they have better access to healthcare.  Not only are there more physical healthcare locations, but they also have vehicles to take them there.
In lower-income neighborhoods that are isolated from healthcare facilities, residents are less likely to have access to healthcare awareness and prevention programs.  They are also less likely to have a way to purchase healthy food. Individuals in these areas with chronic diseases often do not have the consistency of routine care or the knowledge of how to care for these diseases, leading to more serious, advanced diseases that need a greater degree of treatment down the road.
This reality perpetuates a vicious cycle in which the most underprivileged in a community have the poorest health and inability to pay for the health services they do receive. This ultimately spells disaster for healthcare organizations that are not paid for the services they provide. So how can hospitals bridge this socio-economic healthcare gap between those who are most in need of healthcare…and those who are able to pay for it? We've outlined a few ways.
Education: The Earlier The Better
Even though certain individuals and families qualify for programs like Medicaid and CHIP, not all of these individuals take advantage of the medical services offered under them, many times because a). they do not realize they qualify, and b). they do not know how to complete the necessary documents to enroll.  Hospitals can help bridge this gap and make sure that qualifying individuals and families are informed about the programs that can help them, and even go so far as to help them fill out the applications.
Helping patients understand what exactly their options are early in the process—Medicaid eligibility, pre-admission planning for elective procedures, billing transparency, and, yes, payment plan options— ensures not only that a patient will get the care they deserve, but that hospitals receive the payment they're owed.
Outreach: Get Out In The Community
Another way that hospitals can help the community is through outreach programs that bring preventative care to these vulnerable neighborhoods. These can range from the actual delivery of services; for example, bringing a blood pressure screening van to a rural area, or giving out information about health services.  Educating the population or increasing their knowledge about preventative medicine can help awareness of a specific health issue.  Delivering healthy products is also a way to increase this population's awareness of good health.
The outreach should be specific to the issues that the community faces.  For instance, if lack of transportation is keeping individuals from obtaining care, it can be solved by having volunteers drive patients to clinics or hospitals.   Similarly, if language is a barrier, providing a translator onsite at these outreach programs will reach more individuals.
How to Plan Your Patient Outreach Program
To plan an effective outreach program, a hospital should start with the following steps:
Determine the target audience of the outreach program. The type of outreach should reflect the target audience.
Plan staffing needs. Outreach workers play an important role in gaining the trust of the community.  All workers should be informative and well-trained.
Develop a marketing strategy. Effective outreach is well-planned and organized.
Find community partners. If possible, get respected members of the community involved to reach the most number of people.
For hospitals, bridging the socio-economic healthcare gap for low-income areas can help the population become healthier.  It can also help those individuals who are not insured get qualified for available programs.
---
Here at The Midland Group, we've seen time and time again that the earlier a hospital educates and personally engages with self-pay patients in low-income areas, the higher the success of resolving self-pay balances. Contact us to learn how we help hospitals bridge the socio-economic healthcare gap that exists in low-income communities.